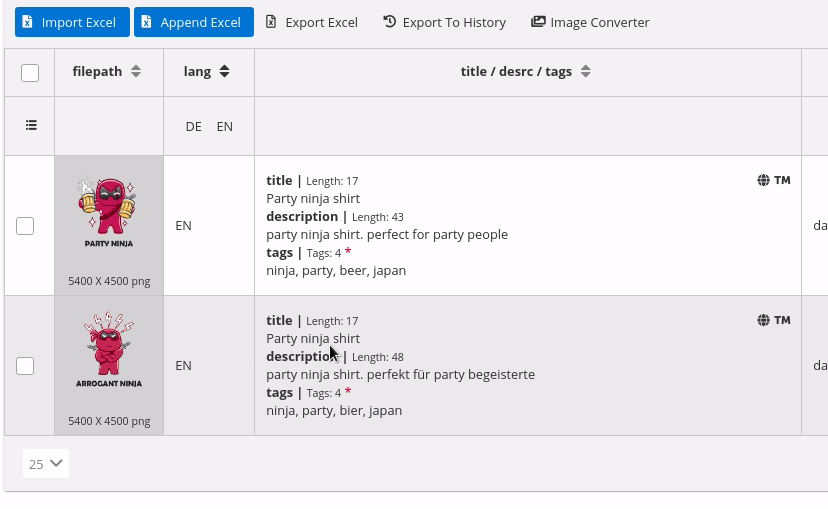 Change Design With One Click
You can change your design by just one click. Choose your image out of the file manager and upload it.
The size of the image and its file type will be shown to you.
Edit your settings in the user interface
You can easily duplicate, delete or edit your listings with the user interface or via shortcut.
Fields that you imported via Excel or uploadhistory can be edited afterwards via the UI.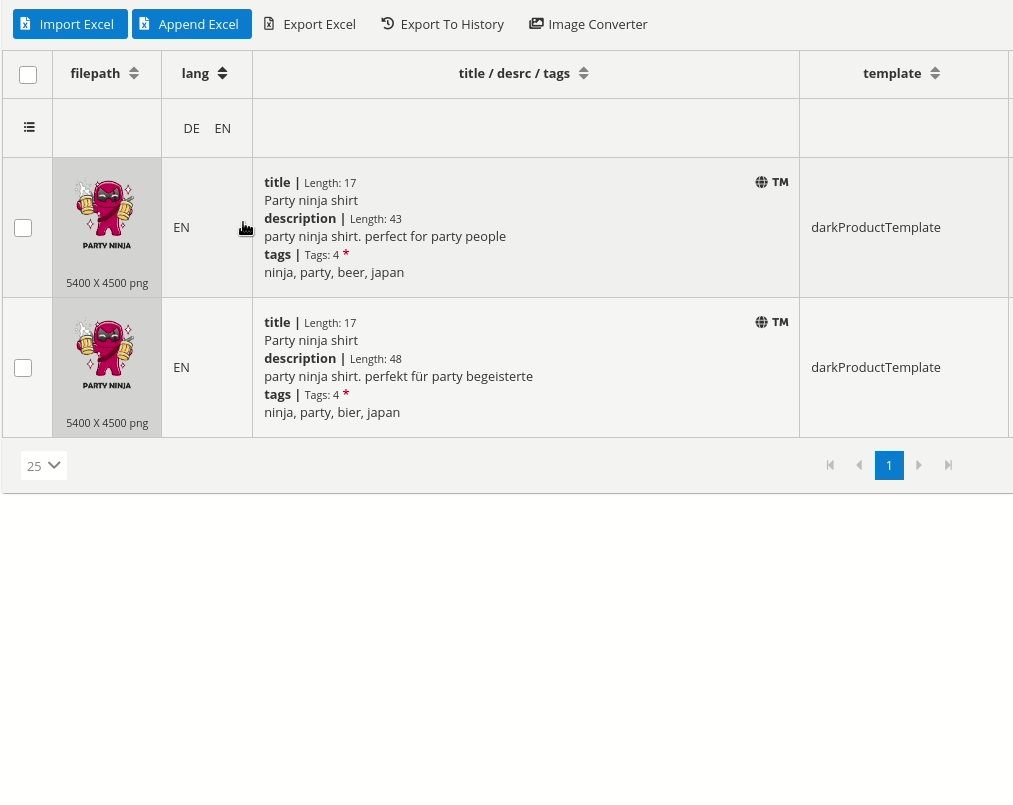 Ultimate overview of your listings in the Upload Matrix
With the Upload Matrix you instantly see which listings have been uploaded on which platform.
If something has gone wrong, this will be marked by a red cross.
Listings can be copied and changed at any time. Change the picture with the new design, adjust the listing easily and start the upload to another platform.
Everything is intuitive and super simple.
No more upload issues with error detection
Ninja Automation shows you errors directly in the user interface and even gives tips for improvement.
Title too long? Too many tags? Forgot to select Default Color? Not a problem. You can correct all this in no time.
Even if you overlook a too long title, we adjust the text to the platform's defaults. Completely automatically. So you don't have any problems during the upload.
Get feedback already during the input of your listing. The error detection shows if everything is ok. Integrated for all platforms and 90% of the input fields.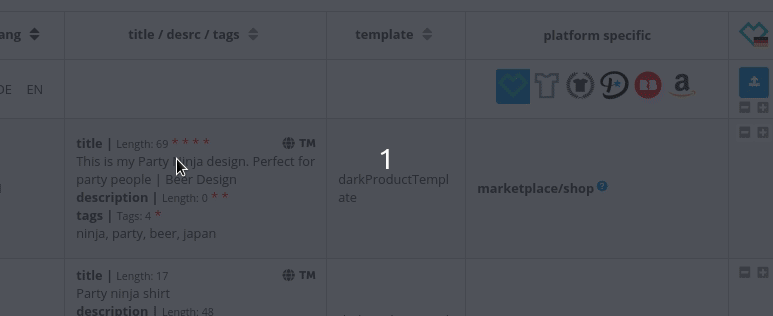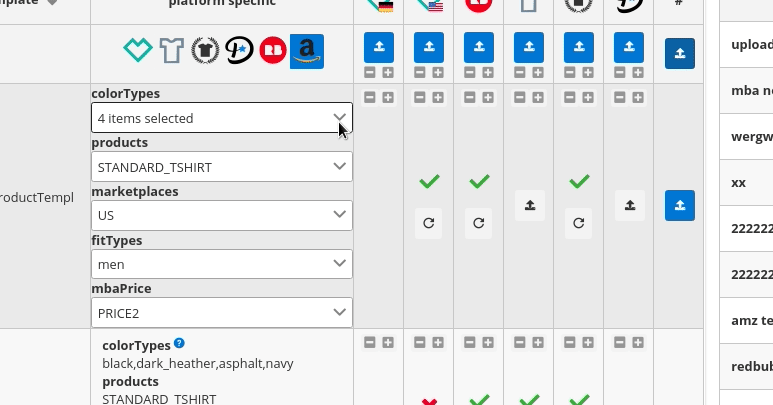 Import more designs via Drop Zone
Easily import multiple designs at once with drag and drop. Open the file browser, select the wanted images and drag them into the Ninja Automation Drop Zone.
Done.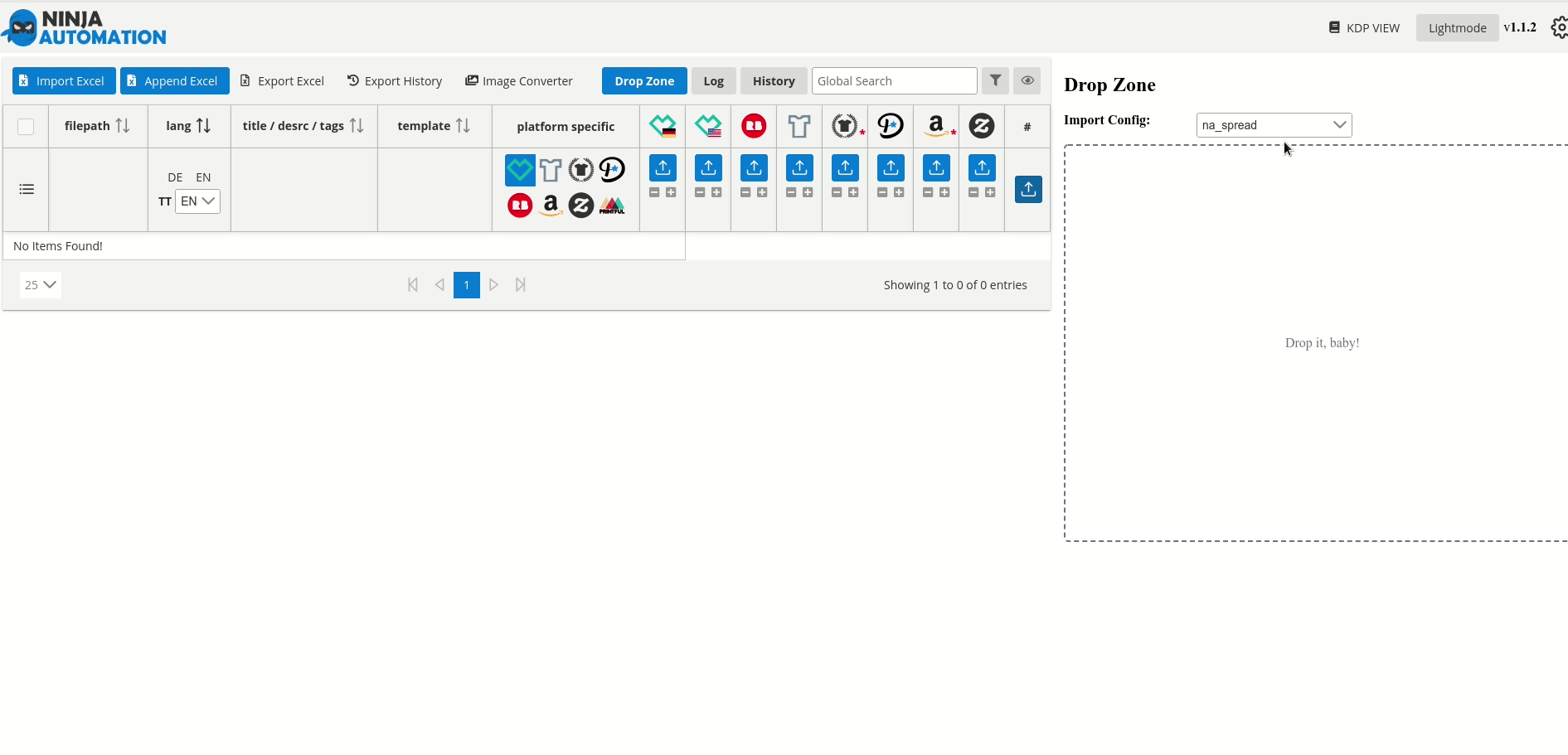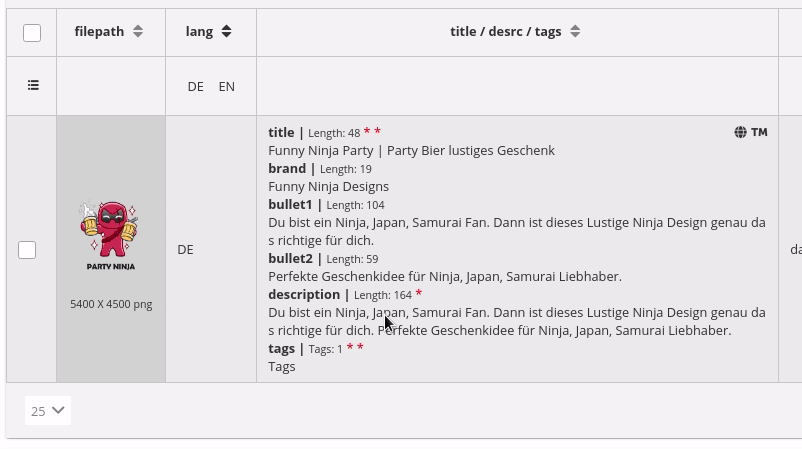 Your Ninja language genius – translations in no time at all
Translate all your listings via shortcut. From English to German or from German to English. No matter.
You can also select multiple listings and translate them all at once.
Within a few seconds you will see the finished translation in the user interface, which is provided by the powerful translation service of Amazon AWS.
Monthly 200'000 characters are allowed per user. If you need more, please contact us.
No mail from lawyers due to the Trademark Check
Check all listings for trademarks via shortcut. English language listings are checked at USPTO. German listings will be checked by Ninja Automation at DPMA.
TM's can be viewed in a popup. Click the "Serial" function and you will be forwarded to the TM of the relevant institution.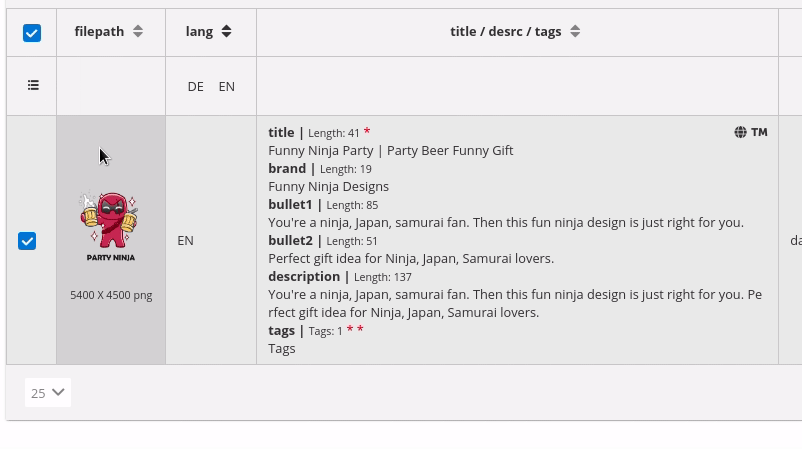 Your favorite designs in various formats – with the Image Converter
Converting your favorite designs into different upload formats (MBA Popsocket, MBA Hoodie, Displate) with various, complicated tools is a thing of the past.
Nowadays you use the integrated Image Converter from Ninja Automation for it.
Select your images, start the Image Converter and choose your colors. Let's go. After the convertion is finished you import the new images into your workspace.
Done.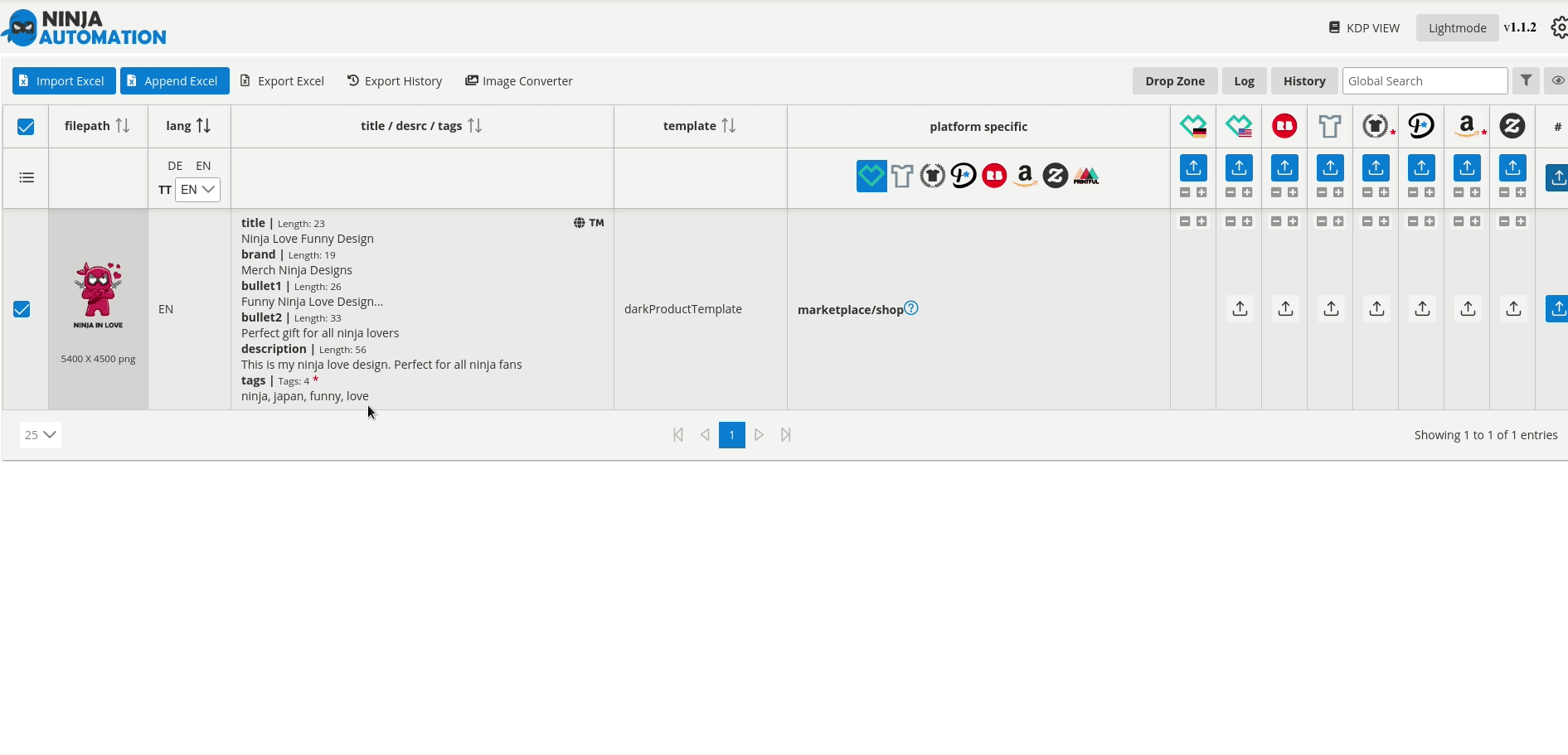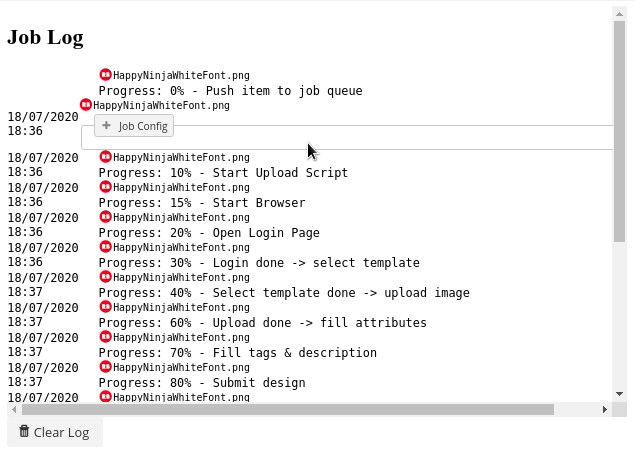 Job Log – fix incorrect uploads with one click
You can track the progress of your uploads to the various platforms next to the browser window in Ninja Automation's well structured job log.
You can see at a single look which design has already been uploaded on which platform and if there were any problems. Of course the tool also shows you which errors occurred.
In return, you will receive detailed error messages in case of a faulty upload. You can correct them directly in the UI and upload your listing again with one click.
Job Queue – priorisize your Uploads
Use the Job Queue to prioritize or schedule your uploads (for example, first 3 Spreadshirt, then 3 Redbubble, etc.). Each listing is uploaded one after another.
You can see which upload jobs are pending, end them early or prioritize another upload.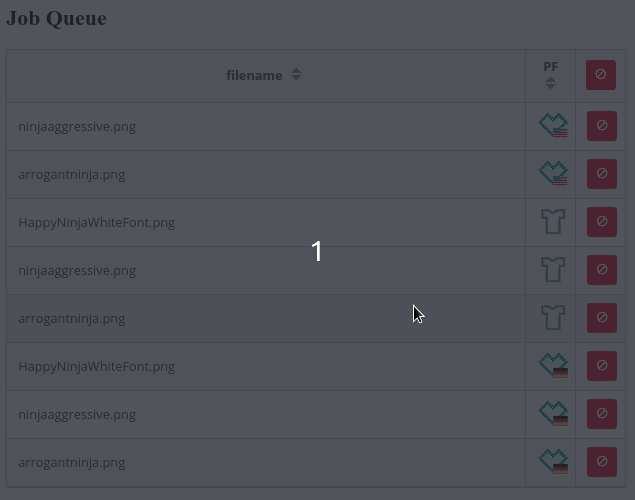 History – Templates, saving your time
With the history function you can save your preset listings. Define names and descriptions and arrange your history like you want to.
Create templates and use them in your current workspace. Alternatively, you can save all the listings ever uploaded, including status, into the history.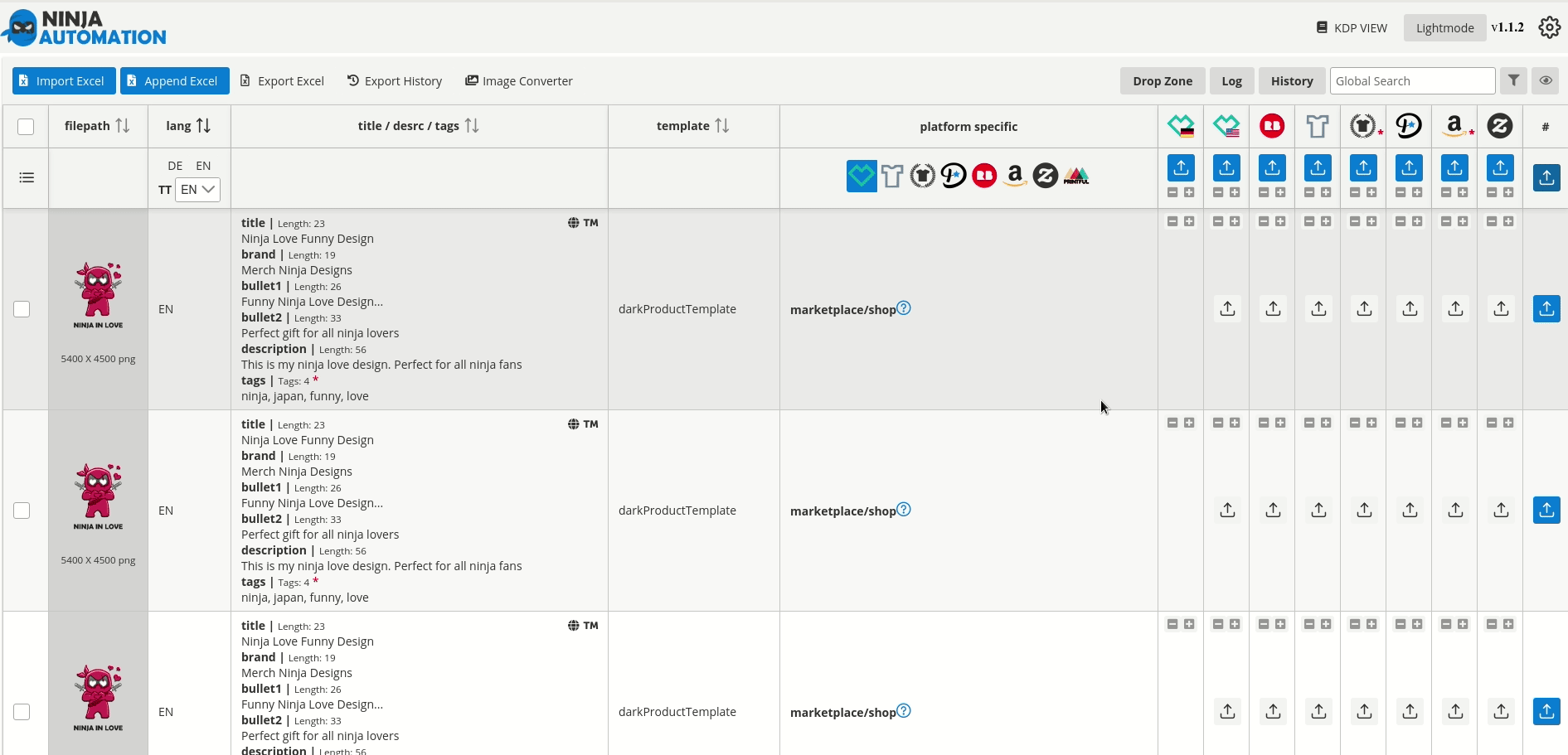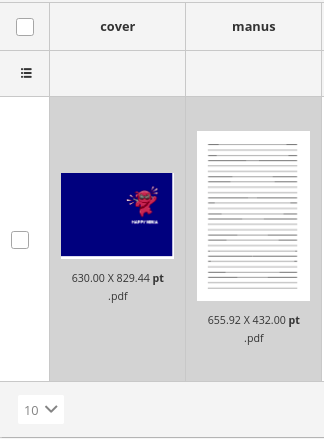 KDP Integration – Ninja Automation for your books
In addition to the POD view, the Ninja Automation can also automate your KDP upload. Use the almost identical layout and known functions.
One click is all it takes to select your cover and manuscript.
Both will be displayed as a preview in the UI. So you can quickly check if you have chosen the right manuscript for the cover and if the dimensions (90-60-90) fit.
Job Editor & Advanced Field Integration
As in the POD section when you enter your listing, the Ninja Automation also supports you at KDP.
You can edit all settings via drop down or input field. If an input is incorrect, the UI gives instant feedback.
With the powerful KDP editor you can design your descriptions. We took care that only allowed editing functions are available.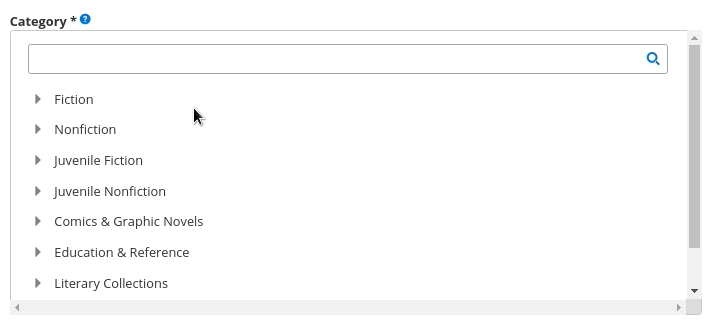 KDP Category Search
Don't you think the search for a suitable KDP category is tiring? We are with you and have made this task extremely easy for you.
Navigate through KDP's category tree or find the required category using a search function.
KDP has never been easier.